Inspired by a children's story, Stone Soup is a way of saving the tidbits of food that would normally have been thrown out as useless, and combining them into a hearty soup which is then donated to the poor and hungry.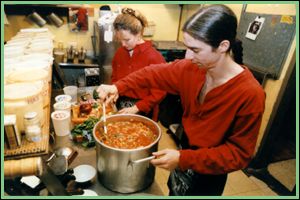 Eliot Fiks (right) and Stacey Gould, partners at Whole in the Wall Restaurant in Binghamton, prepare a batch of Stone Soup.
Stone Soup represents a new concept in food donation unlike any others. Many food service establishments donate food, this food being leftovers. Every time a vegetable is cut there is mint quality usable food on the end. This untapped food source is the basis for Stone Soup.
Eliot Fiks of Binghamton's Whole in the Wall restaurant began this program in October of 1995 and has been encouraging other local establishments to join in since. Each week Fiks' saves up those bits of food from his restaurant that couldn't be used and freezes them in small containers. At the end of the week he combines the bits into a soup base with crushed tomatoes, barley, pasta, spices and a little parmesan cheese.
The finished soup is then usually picked up by the Salvation Army, who then serve it at the free evening meal they put on every Thursday through Monday at their shelter on Washington Street in Binghamton.
"It always goes fast," said DiAnn Small, community services director at the Salvation Army in Binghamton, describing the reception Stone Soup has received at the Salvation Army's free evening dinner.
In 1999 Whole in the Wall won a National Humanitarian Award for their Stone Soup project.
The long range goal is to get restaurants nationwide making Stone Soup. This is a project that is readily accomplished by any restaurant. Locally Stone Soup is also being made by United Health Service hospital's food service (Sodexho).